Memories are made of this.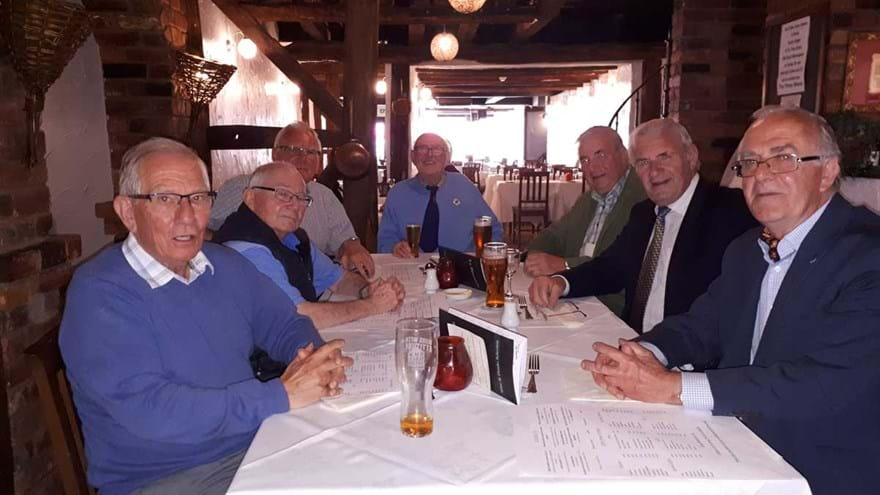 Posted on Tue 25 June 2019
We all have our memories of King Charles 1 School, not all lying in the builders' rubble of the site in Bewdley Road. Most of our memories, I suspect, centre on the Staff and fellow pupils, our successes and failures, memorable events and the buildings.  As I was told on so many occasions that I was not an academic and half way to being a failure, I concentrated on the thing that I was quite good at  -  sport. Having had 10 orthopaedic operations since those days, you would have thought I would advise anyone today to avoid sport like the plague, but to me it was my whole raison d'etre and the person who introduced me to it, and guided me through it, was Mike Thirsk. Now in his eighties, Mike was a guest of several Old Carolians recently, in a lunch at the Brasserie (May 2019).
The story goes back to an obituary of Mike's wife, a Ludlow girl, in the Tenbury local newspaper last year.  This was seen by 2 of our oldest Carolian friends and contemporaries, Anthony and Keith Bunn. They too were able to cast their minds back to years at King Charles and to Mike Thirsk, now the only ex teacher of our years to be still alive. The last time I had seen him was at the funeral of Ben Ford. They wrote to Mike at his Cookley address, received a telephone call, and eventually arranged to visit him at his house.   News of this meeting spread to other Old Carolian friends and so several of us agreed to enjoy a meal with Mike in Kidderminster. Although walking with a stick and active occasionally on a 4 wheel mobility scooter, Mike is still as sharp as a tack and, perhaps surprisingly, he was able to remember all of us -  Anthony and Keith, David Slater, Mike Wilson, Colin Lloyd and Peter Vaughan. Mike was a young PE teacher, not long out of Carnegie College, Leeds, when he joined King Charles in 1958. He replaced another teacher we all remember, Ernie Taylor. 4 years later, he moved on to lecture in Physical Education at Shenstone Teacher Training College.   He told us that he is fortunate these days to see anyone from his King Charles days but we were fascinated by the things that he could still remember.
He told us of working with another Yorkshire man, John Drake, with Jake Potter, Dickie Richards and Jim Charlton, and with Kingsley Raw. Some of these stories were fascinating – especially the time he had to go into 4A classroom to rescue a crying teacher who was unable to control the class. Mike sent the teacher out of the room and took charge.   In teaching, it is certainly true that you have the personality to enforce discipline or you don't. Memories were flooding back to all of us. I remembered the rugby, the coach trips to other schools, the gymnastics, the Dunclent cross country, the Birmingham Schools' Sevens Tournament at Moseley, the teaching practice of Martin Underwood. All of these memories had Mike's stamp all over them.
So ended a most enjoyable lunch with a teacher we all admired and who was an inspiration, certainly to me.  Now walking with a stick, Mike Thirsk is an example to us all. In the meantime, I'm sure Mike would love to meet any of the pupils he taught at King Charles.
Peter Vaughan: Carolians Home Affairs Correspondent