Tim Gulliver the School's headmaster retires at the end of this summer term.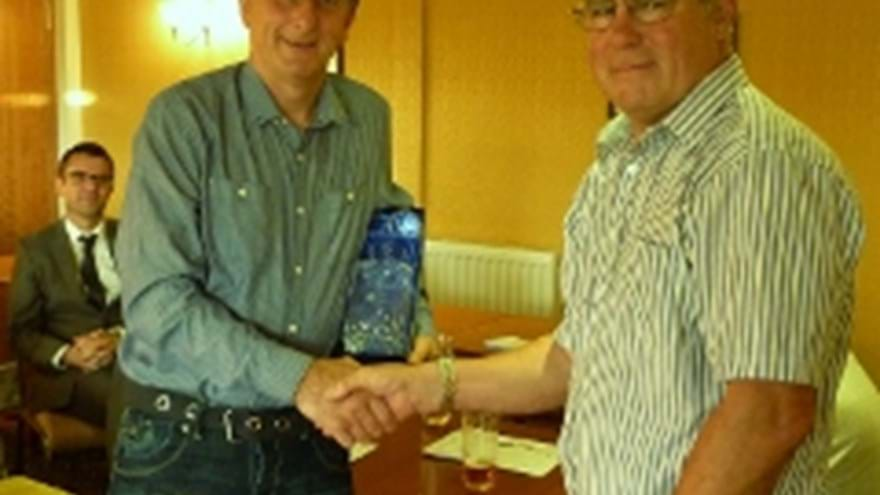 Posted on Fri 18 July 2014
At the Meeting of the Old Carolians Committee, held at Kidderminster Cricket Club on Wednesday July 16th 2014, a Presentation was made to Tim Gulliver to thank him for his long association with the Old Carolians and for his invaluable contribution to the Association over many years.
In the presence of Stephen Brownlow, the recently appointed new Headmaster of the school and of a large Committee, President Charlie Combes presented Tim with a splendid inscribed cut glass decanter, made in Stourbridge, the centre of the British Glass making industry.
Charlie said that Tim had done a wonderful job at the school, recognised throughout the County and the West Midlands. He had regularly attended Committee meetings and functions; he had always made the School's facilities available for social occasions, had helped in the distribution of the yearly magazine and had forged a relationship with the Association and its members which will be long remembered.
In response, Tim said that he was speechless at the generosity of the Association and its Committee. He had always felt a great bond to us and had greatly enjoyed being a member of this select group of friends. He said that he would be for ever grateful for the wonderful honour which the Association had awarded him when he had received the Old Carolian Life Membership. Looking at the splendid cut glass decanter, he commented that he would not be filling it with the usual whisky, but would be enjoying instead his favourite Port. We imagined Tim's future evenings at home, watching the football (notably the Wolves), enjoying his favourite tipple and relaxing after a rewarding career placing hundreds of students on the path to success in life.
Tim Gulliver has been one of the very best Head teachers of King Charles 1 School and we have certainly been very lucky that he has always helped the Association in a most generous and friendly spirit during his period of office.
OCA's Chief Home Affairs Correspondent:  "Captain" Peter Vaughan