An Old Carolian, Eric Pheysey, who fought in the First World War is remembered by students at King Charles 1 School.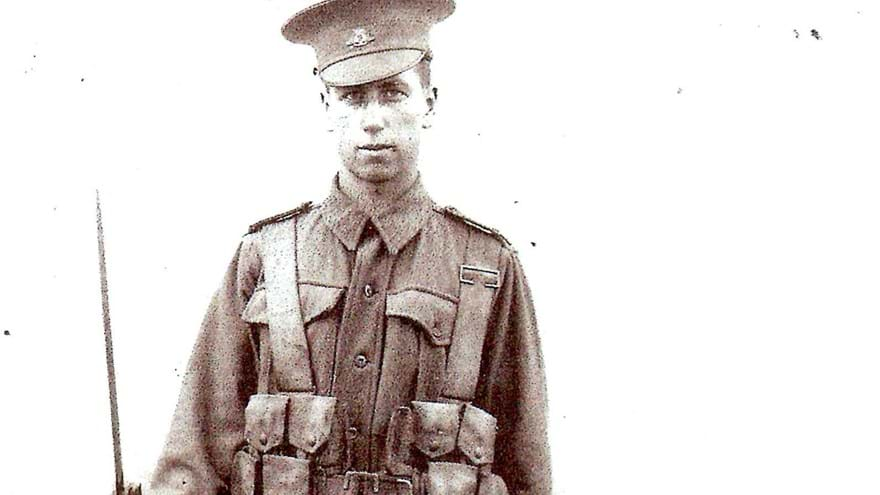 Posted on Fri 14 February 2014
Students from Year 9 at KC have been part of the BBC's First World War commemorations project.  They've been working with Nicola Goodwin, a reporter from BBC Hereford and Worcester, who is one of 40 producers across Britain who are finding stories about how the war affected people at home.
Together with the Imperial War Museum, Nicola found details of a former student called Eric Pheysey who'd left Stourport for Australia to become a farmer.  He signed up for the Australian Expeditionary Force and fought in the Middle East and Flanders.  The students learned more about Eric and his life during their field trip to the battlefields of the Somme and together with former teacher Pat Yarnold and teacher Gary Tomlinson, they narrated some of Eric's letters home to his parents in Stourport.
You will be able to hear the students' work and Eric's story on BBC Hereford and Worcester on Monday February 24th from 7am and you will also be able to read more about the story online at www.bbc.co.uk/worcester and www.bbc.co.uk/ww1. BBC Midlands Today will also broadcast a World War One At Home story each weekday from 24 - 28 February at 6.30pm on BBC One.
The BBC's World War One At Home, a UK-wide project, will broadcast over a thousand powerful stories throughout 2014 and 2015 - all linked to specific places across the country - in a way never told before.  This unique broadcasting event will uncover surprising stories about familiar neighbourhoods where the wounded were treated, crucial front line supplies were made, major scientific developments happened, prisoners of war were held and where heroes are buried.