The Old Carolians Association's snooker team suffers heavy defeat against Stourbridge Old Edwardians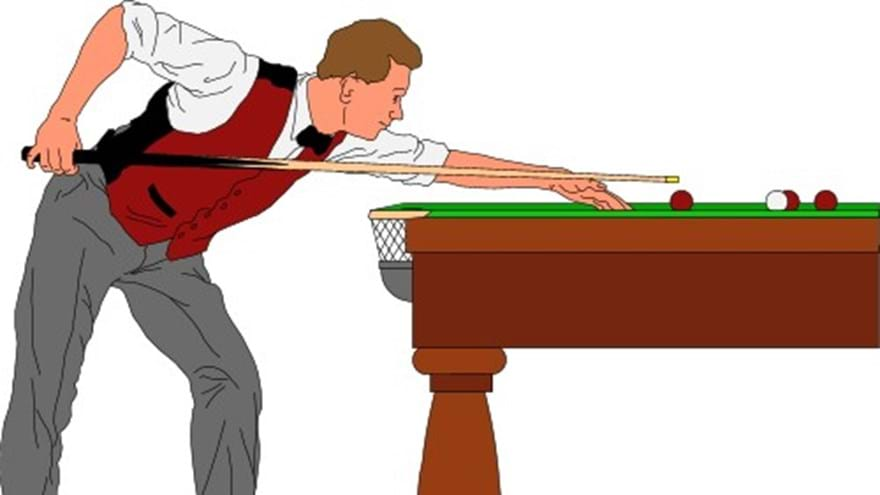 Posted on Wed 06 October 2010
The Annual Snooker match against Stourbridge Old Edwardians was held on the evening of Wednesday October 6th in the luxurious surroundings of the Old Edwardians' Gentlemen's Club in Drury Lane, Stourbridge. The club is a rather exclusive establishment with no ladies allowed to be members. This has been a historical situation since the days of Hadrian, although it has to be said that there are moves afoot for a rule change which will allow ladies to become full members. Ladies are allowed into the club, but only by special invitation on occasions such as President's Night etc.
Old Carolians' Secretary Colin Lloyd reminded us of the rather quaint but certainly stringent Old Edwardian rules concerning dress at the club - we were not to turn up dressed in jeans, T shirts or trainers on pain of ejection into the street by the Club's athletic steward. That meant certain of our number had to scour the wardrobe before setting off and one wonders about dress rules for the ladies when they are finally admitted. I have it on good authority that no revealing decolletage, or short skirts will be allowed, nail varnish must be removed and elastic undercorsets must hold in the bulging bellies of today's modern woman. You might as well put bromide in your cocoa before setting off lads.
The specially selected Old Carolian Second Team (the First Team having cried off to watch England play their football friendly against Burkina Faso ) consisted of Hon Sec. Colin Lloyd, Roger Perrin, Peter Vaughan, Vice President ( better not let him in then) Joe Kerrigan, Peter Guy, Rob Charteris and Peter Picken.
When I was a rugby player at King Charles in the 1950's, a trip to King Edward's Stourbridge to play the classic game was a little like going over the top on the Somme in 1916. If you came away with a victory, then you certainly also came away with bruises the size and colour of cow pats, joint dislocations to keep the Hospital in business for weeks and the field littered with bits of teeth, crowns, and fillings . The dentists hovered like vultures along the touch lines.
The team fought manfully against the well practised opposition who had met together nightly for 6 weeks, planning tactics, safety play, eye popping trick shots, and being fed on raw meat and lucozade. The Old Carolians had a brief 10 minutes in the pub being shown which end to hold the cue, and basic rules such as, these things with thin string are called pockets, don't hit the black against the white, and drink up your Wincarnis, it will fortify the parts that the blood doesn't reach any more. Vice President Joe Kerrigan was the star of our team, his kaleidoscopic braces dazzling those around him at the table. They were a cunning secret weapon to deflect the opposition's gaze from the game in hand, but they didn't work. Talent will always rise to the top and Joe and Peter Vaughan were beaten in all 4 games. Not by much it has to be said, and in one game, all our points came from the opposition's foul shots. In the final game Joe showed off his bravura talent by clearing pink, blue and black in a rare display of mis spent youth and rediscovered break building. Even this skill was not enough to win the match and our Ronnie O'Sullivan Solicitor retired to the buffet vowing to fight another day and stick it up them. There is a rumour that the team of Colin Lloyd and Roger Perrin actually won a game. This was, unfortunately, as rare as a cuckoo in spring, and, sad to say, there were no other reported tales of battles won on far distant tables.
It was certainly noted that our well respected Old Carolian Treasurer, Peter Picken, showed by example how to accept the etiquette of the modern snooker tournament and he went about his games with a smiling elegance and style which was an example to us all. While waiting for his thoughtful shots, he watched the rest of his friends and team members, probably thinking , as an ex Chief Police Superintendent and Queen's Police Medal winner, "what a bloody shower I have involved myself with. In the old days we could have arrested this lot and given them a night in the cells to teach them a few home truths."
The evening ended with a sumptuous feast in the wooden panelled Committee Board Room and Joe made a speech in which he lied through his teeth that we all really enjoyed getting thrashed once again, that we thought the Old Edwardians were the best thing since sliced bread and were very fine fellows indeed. They must come back to our place and play us again . I'm not sure that this went down very well with our team, who made a subtle and determined effort to get their own back by stuffing chicken legs, pork pies and samosas into hidden pockets.
But the challenge was made, by some delusional idiot, to playThe Edwardians at 7-a-side rugby at Marlpool Lane. Now that is something to look forward to next year. We will just have to make sure that there is a fleet of ambulances and paramedics standing with dustbins on the touch line and a squad of nubile female physiotherapists available to rub away the aches and pains and make a man feel there may still be some life in one's nether regions.
Special Sports Correspondent: "Captain" Peter Vaughan